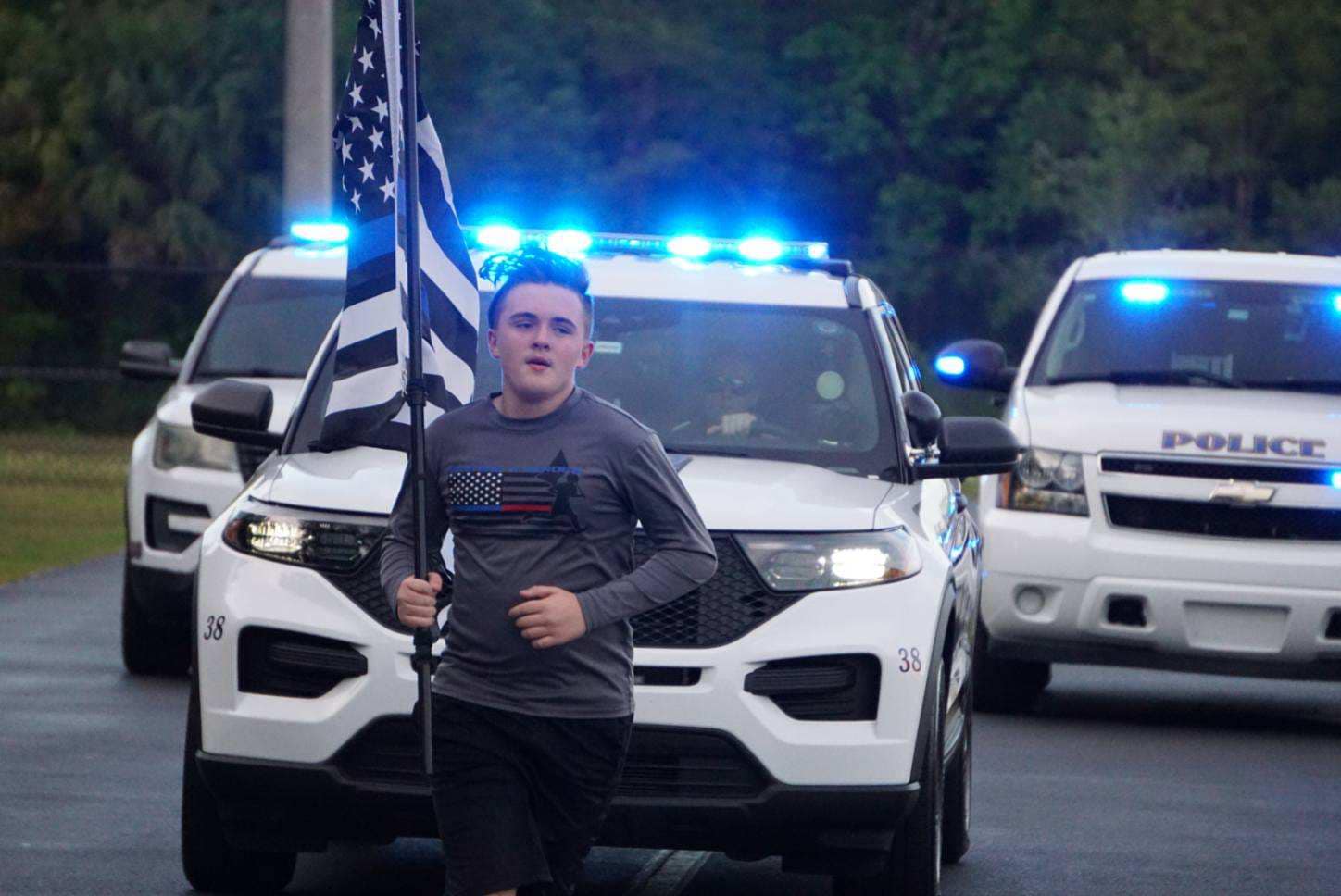 About Running 4 Heroes
Running 4 Heroes started with a kid, an appreciation for our First Responders, and a mission to raise awareness and funds for those fallen in the line of duty.

Zechariah Cartledge was born with the gift of running. He was raised with an appreciation for First Responders and all they do for the community. As he grew older, Zechariah decided to help the families of our fallen First Responders in a meaningful way. Encouraged by the mission and vision of the Tunnel to Towers Foundation, Zechariah began his journey raising funds for those families by running.

In 2019, Zechariah founded the Running 4 Heroes non-profit 501(c)(3). Since then, other Youth Runners have joined the cause, and together they run one mile for every First Responder who makes the ultimate sacrifice in the line of duty. Our Youth Runners want to honor those who gave up their life so we may live in a better world.
Donations to Running 4 Heroes Inc. helps to fund the following missions:
Fallen Hero Flag Program

Every mile that is run for our fallen First Responders, our mission will send the flag that was carried to the family and/or agency of the fallen hero along with a handwritten note.

Injured First Responder Grant Program

Each month, we donate a minimum of $10,000 to a First Responder Injured in the Line of Duty. As of November 2023, Running 4 Heroes has awarded nearly $500,000 in these grants.

Click here for our application

K9 Grant Program

Each month, we will present a different K9 Officer with a ballistic vest and/or safety equipment as part of our Running 4 Heroes K9 Program. As of August 2023, we have awarded nearly $50,000 in equipment and monetary donations to these K9 Officers.

Click here for our K9 application

Family of the Fallen Beneficiary Fund

When a First Responder is lost in the Line of Duty and leaves behind children 17 years of age or younger, with the agency/family blessing, we spearhead fundraising campaigns to help financially support the families of these fallen heroes. As of November 2023, Running 4 Heroes has awarded over $350,000 to these families.

Tribute Hall

In October of 2022, Running 4 Heroes officially opened our Tribute Hall in Winter Springs, Florida. This 1,800 square foot Tribute Hall is connected to the main R4H headquarters, and helps us continue to honor our fallen heroes. It also provides a place for the families of our fallen to reflect on their heroes, and for future children to be inspired by the mission. From stories of the heroic 9/11 efforts to recently fallen heroes lost in the Line of Duty, this Tribute Hall is a powerful place that will forever honor our fallen heroes and provide anyone visiting Central Florida a place to honor our fallen.

Headquarters/Unofficial P.D. Substation

Our Running 4 Heroes Headquarters in Winter Springs, Florida has become an unofficial substation for our local Police Department. To ensure that our local Officers have what they need, we will continue to stock our kitchen with various food and beverages, and our bathroom with various toiletry and hygiene products, so that our local First Responders are hydrated, nourished, and healthy. This is just one of the ways we are supporting our local heroes!

Travel Mission

Having the opportunity to meet the youth of this mission means so much to our First Responders and our Surviving Families. Your support makes those opportunities possible.